With lovely parks and gardens, Melbourne stands on the banks of the Yarra River and the shores of Port Phillip Bay. The city is Australia's second largest and home to over four million people.
It is Australia's major events capital – home to such international sporting events as the Australian Formula One Grand Prix, the Australian Tennis Open, the AFL Grand Final and the Melbourne Cup horse race.
Melbourne is a city of diverse and vibrant neighbourhoods. Each of these areas has its own character and personality and combined they make up the cultural patchwork that is Melbourne.
Venture away from the skyscrapers of the city centre and explore the quirky nature of Melbourne's neighbourhoods. Toorak Road and Chapel Street in South Yarra offer the city's best shopping, dining and people watching, Lygon Street, Carlton is Melbourne's slice of Italy, with pizza and pasta restaurants galore or perhaps enjoy authentic and cheap Vietnamese cuisine in one of the many restaurants on Victoria Street, Richmond, known as Melbourne's Little Saigon.
The beachfront neighbourhood of St Kilda is best known for its cake shops and backpacker scene. It has two distinct faces: the 24-hour nightlife of Fitzroy Street and the cafés and delicatessens of Acland Street. St Kilda's landmark is Luna Park with its laughing face and roller coaster rides. St Kilda Beach also features a weekend craft market.
Brunswick Street, Fitzroy, reflects the alternative side of Melbourne. The streets buzz with activity and are crammed with alternative lifestyle shops, second-hand clothing and funky restaurants.
Local transport
Melbourne's public transport system is comprised of buses, trams and trains.
Bus
Buses take you everywhere that isn't covered by trams or trains, although it is unlikely that you'll need to travel by bus unless you're visiting friends who live in the suburbs.
One bus you are likely to use is the Melbourne City Visitor Shuttle. This is a hop-on hop-off tourist bus route with buses running every 15 to 20 minutes between 9.30am and 4.30pm stopping at 13 points of interest. Stops include NGV International, Federation Square, Melbourne Museum, Lygon Street, Melbourne University, Queen Victoria Market, Southbank and the Shrine of Remembrance. A two-day pass for the Melbourne City Visitor Shuttle costs $10.
Tram
Most travellers find trams the most useful way to get around the city. They slowly rattle down the major streets and cover most inner city neighbourhoods. Trams are particularly useful for travelling between the city centre, South Melbourne and St Kilda.
Most of the city centre, including the Docklands, is designated as a Free Tram Zone with free tram travel within this area.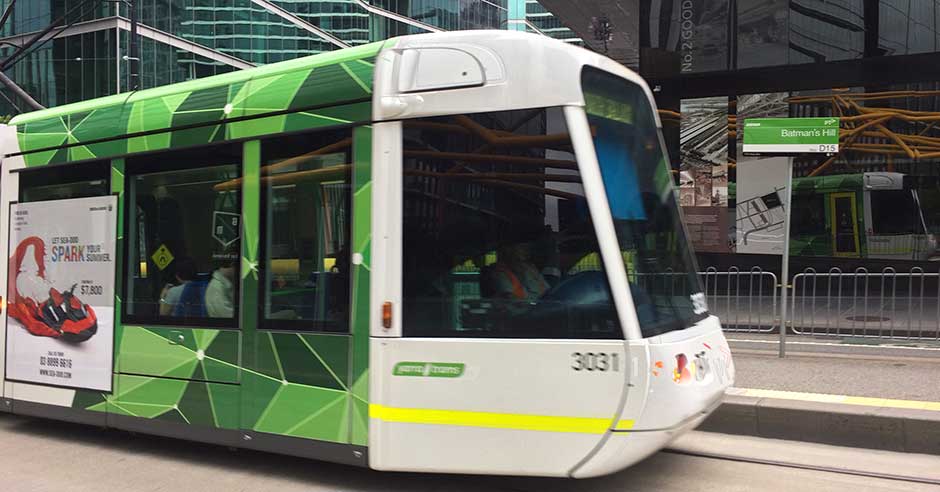 Train
Trains are a good way to get to the outer suburbs. The five stations on the underground city loop serve as the core of Melbourne's extensive suburban train network of 207 stations. Taking a train is a handy way to get out to the choice hitchhiking spots on the edge of town, for catching the Phillip Island ferry at Stony Point, for visiting friends or going to job interviews in the suburbs.
Fares
All public transport fares in Melbourne use the Myki ticketing system, which similar to London's Oyster card.
A blank Myki card costs $6, which is topped up with extra credit to cover your travel costs. Fares are capped to a daily maximum of $8.20 ($6 on weekends and public holidays).
The Myki card can be used for travel on buses, trams and Metro trains and it also works on local bus transport services in regional Victorian cities including Ballarat, Bendigo, Geelong and the Latrobe Valley as well as on some regional V/line train services (primarily V/line trains to Ballarat, Bendigo, Geelong and the Latrobe Valley).
Zone 1
Zone 2
Zone 1+2
Two-hour ticket
$4.10
$2.80
$4.10
Daily ticket
$8.20
$5.60
$8.20
($6 on weekends and public holidays)
Melbourne Bike Share
Melbourne Bike Share is Melbourne's new bicycle share programme where you can pick up bicycles from pods around the city.
The pricing structure is comprised of a subscription fee ($3 per day, $8 per week or $60 per year) plus a fee for the time you use the bike (first 30 minutes free; 31–60 minutes $2; 61–90 minutes $7; every additional half hour $10).
The idea is that you just use the bikes for short trips (free for trips shorter than half an hour), that way you should never need to pay more than the subscription fee.
There are currently 51 pods in Melbourne. However, it only operates within central Melbourne; which rules out trips to neighbourhoods like Richmond, South Yarra or St Kilda (although you can ride the bikes to Carlton, South Melbourne and Port Melbourne).
The major drawback with the Melbourne Bike Share programme, compared with bicycle share programmes elsewhere in the world, is that by law you are required to wear a bicycle helmet in Australia. That takes away the spontaneous nature of the programme and it means that you often need to buy a helmet and carry it around with you just in case you need to use a bike. Fortunately some of the bikes now come with helmets and the Melbourne Bike Share programme also sells cheap helmets, which cost just $5. You can buy these helmets from vending machines at Southern Cross station as well as from many 7-Eleven convenience stores and IGA supermarkets around the city centre.
Driving
Melbourne is one of Australia's more challenging cities to drive in as you will be sharing the road with trams.
Whenever a tram stops at a tram stop you must also come to a complete stop and wait until the tram leaves the tram stop before you start moving again, so people can alight safely. This is not necessary at many of the tram stops in the city centre that have platforms or safety barrier called a Safety Zone or when you are travelling in the opposite direction to the tram.
If you're driving in the rain, avoid braking on tram tracks. They can be very slippery.
Hook turns
A hook turn is a bizarre driving rule unique to Melbourne. At certain intersections in the city centre (where there is a sign indicating "Right turn from left lane"), a right-hand turn must be made from the left-hand side of the road. Although this sounds confusing, it actually makes a lot of sense, as hook turns prevent trams from being held up in traffic.
Instead of turning right from the right lane, you should get into the left lane and cross three-quarters of the intersection and then stop, indicating to turn right, until you have a green light in the direction you are turning. Only when you have the green light should you complete the hook turn.
CityLink & EastLink
Melbourne has a couple of toll roads that are a quick way to get in and out of the city.
The CityLink tollway runs from Tullamarine Freeway at Bell Street to the Westgate Freeway and also from the city centre to the Monash Freeway up to Toorak Road. The EastLink tollway runs north-south in the eastern suburbs between Ringwood and Frankston. The electronic payment system ensures that there are no queues at tollbooths and is a convenient system for residents, but for visitors to Melbourne it is much less convenient. Residents using CityLink or EastLink affix an electronic device to their windscreen (called an eTag on CityLink and a Breeze Tag on EastLink), which automatically debits the toll from their account.
If you're just visiting Melbourne, it is inconvenient and expensive to buy an eTag and it is a better idea to buy a 24-hour or weekend CityLink pass for $17.19 that allows you to use CityLink for either a 24-hour period during weekdays or all weekend. Passes are available from CityLink offices and post offices. You have until the following morning after driving on CityLink to pay for your CityLink pass. Passes can also be ordered by calling 13 26 29 or online. There are heavy fines if you do not pay. A one-way pass for travel on Eastlink costs $6.04, you can pay for an EastLink pass at post offices and Coles Express service stations or by phoning 13 54 65 (13 LINK).
There are alternate routes if you want to avoid the tolls. Going to the airport from the city centre, you can avoid CityLink by getting on the West Gate Freeway at Power Street or Kings Way and heading west and then taking the Western Ring Road north to the Tullamarine Freeway. If you're heading to Gippsland, Phillip Island or the southeastern suburbs, you can get to the Monash Freeway via Toorak Road. You can avoid EastLink by taking either Springvale or Stud Roads instead.